Welcome Note
Since the founding of 1877, we believe that instruments play an important role to richly eat diet, starting with the development of original products by tie-up with the kiln,
We have always made new proposals in a wide range of fields from home use to business use. Utilizing traditional techniques, we make manufacturing that fits the times,
We believe that communicating the charm of ceramics in this area to the whole world will create a beautiful and rich diet. More loved by the region, company
We are aiming to be a company that is loved by the community and helping people in society, and we will continue delivering the loved and loved products to our customers.
representative of directors Eiko Ozaki
Company Profile
OZAKI TOHKI CO.LTD
1840 Kihara-cho,Sasebo-city,Nagasaki, Japan
URL : http://www.ozaki-touki.com/
OZAKI TOUKI WAREHOUSE
169-1 Yoshihuku-cho,Sasebo-city,Nagasaki,Japan
OZAKI TABLEWARE
Hospitaallaan 1
9341 AE Veenhuizen
Nederland
URL:http://ozaki-tableware.com/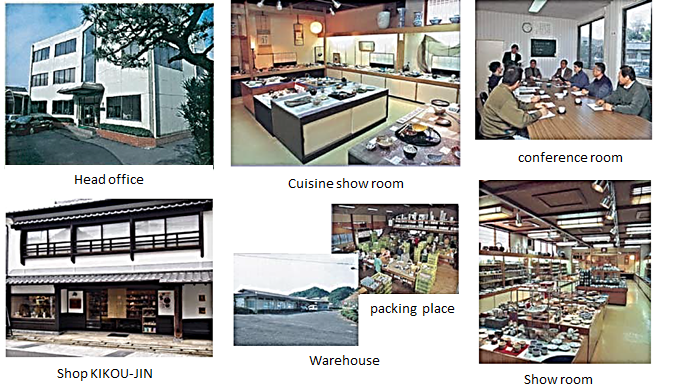 Representative
Representative Director and Chairman Yoshihiro Ozaki
Representative Director and President  Eiko Ozaki
Business contents
Lease of the wholesale sale real estate of the lacquerware, glass, wooden goods, bamboo product for wholesale sale duties of the wholesale sale high quality ceramics, exchange of presents use of the tableware for tableware, families for high-quality ceramics, duties (original product)
Company history
1877  The establishment of a business. Inokichi Ozaki begins ceramics wholesale trade in Kiharacho, Sasebo-shi
---
1929  The second son of Inokichi Ozaki, Ozaki Toraichi succeed to the second generation and extend business affairs.
---
1959  Eldest son of the Ozaki Toraichi, Yoshihiro Ozaki succeed to business as the third generation.
---
1968  Showroom establishment.
---
1971  I change a corporation organization for business expansion and establish Ozaki ceramics Co., Ltd. (capital 600,0000 yen). Yoshihiro Ozaki takes office as a representative director.
---
1973  I make it and announce the catalogue of the industry's first tableware for business use and attract attention
---
1979  I build the headquarters building and rebuild a showroom. I hold 100 establishment of a business anniversaries as a commemorative project and invite approximately 100 customers of the whole country  and perform a trade fair and a commemorative project.
---
1992  I establish the second office in Yoshifukucho, Sasebo-shi.
---
1994  "KIKOU", and making announces (now "KIKOUJIN") an original gift container. I increase the capital to 10 million yen with capital.
---
2003  Eldest son of Yoshihiro Ozaki, Akinobu Ozaki take office as a president-director to Chairperson representative director Yoshihiro Ozaki.
---
2011  Select Shop "KIKOUJIN" is open in Arita-cho, Saga
---
2017  We participate in a business professional use project for Arita ware making establishment of a business 400 years.
---
2017  we held "Ozaki TOHKI 47th term business plan announcement meeting" at Paradise Garden Sasebo.
---
2017 The establishment of a business. Ozaki begins ceramics wholesale trade "ozaki international b.v." in  Netherlands
---
2018  Ozaki Tableware B.V.  opened the Arita showroom in Europe located in World Haratige side VEENHUIZEN Hospitaallaan 1 The Netherlands.
---
2018 Ozaki Eiko succeeded the business as the fifth generation and assumed office as President and Representative Director
---